Betfred Free Bet & Review
When Fred Done founded his bookmaking business back in 1967, he could have never imaged that one day his sports betting empire would evolve beyond its high street roots into the online arena. Today, Betfred turns over more than £3.5 billion a year thanks to a three-pronged platform that incorporates casino, poker and sports betting, all of which are now available in real and virtual forms.
Like many online sports betting operators that have moved with the times and rolled with the punches, Betfred now conducts the bulk of its business online and that means punters can now ante-up on major sporting events from the comfort of their own home.
Best Bets: Breaking Down Betfred Sports
The Interface
Divided into four distinct sections, Betfred's online sportsbook has managed to pack a wealth of information into a relatively small space. One of the biggest problems with major online sports betting sites is that the amount of information available can be overwhelming. Fortunately, however, Betfred has solved this problem by splitting its interface into four sections:
Top Bar:
Running along the top of the page and coloured in silver, this toolbar serves to outline the site's current offers, latest stats and, importantly, betting guides. Instead of forcing punters to work things out for themselves, Betfred sports has put together a series of explanations and descriptions to ensure that nothing on the site is a mystery.
Left Sidebar:
After giving punters a guide to what's happening at the top of the page, Betfred's developers have followed the natural movement of user's eyes and listed the site's betting highlights on the left-hand side of the page. Starting with the top bets of the day (based on the events running that day) and moving into each of the available betting markets, this toolbar packs thousands of bets into an easy-to-read list thanks to a system of cascading sub-menus.
Centre Console:
Reserved for the latest live betting options and daily deals, this centre console acts as the heartbeat of the site and gives the whole interface a much more vibrant feel. Although the information contained within the console might not be relevant for everyone, it does serve as an easy route into the best money-making opportunities of the day.
Right Sidebar:
The final element to Betfred's sports betting interface is a recap of your betting activity (i.e. your betting slip), the best promos on offer throughout the site and the site's range of betting aids (outlined in the tech wizardry section). All available with the click of a button, this section serves as the bow on a betting platform that allows you to learn, earn and enjoy online sports betting to the fullest.
Betfred's online bookmaking platform has been designed to offer an international service for punters in a number of regions (excluding the US). Comprising of a bi-lingual interface (English and Spanish), three different odds formats (EU, UK and US) and 17 different currency options (including GBP, EUR, AUD, JPY and HKD), the route to potential riches has been made as wide as possible for everyone across the world.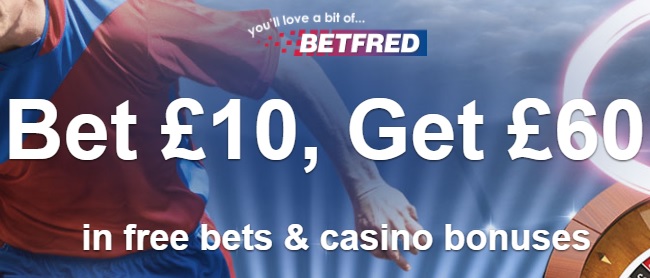 The Casino Betting Menu
As mentioned, Betfred's sports betting options are listed in the left sidebar and regardless of your passion, Betfred will have something to satisfy your needs. From golf, rugby and football to more exotic wagers, such as the outcome of TV shows and political betting, there's literally no end to Betfred's sports betting offerings.
As with any major online sports betting site, in-play betting is a prominent feature on Betfred and that centre console helps to make this a more engaging feature thanks to its dynamic technology. Instead of pushing players onto a different page and forcing them to refresh links in order to get the latest odds, Betfred's developers have utilised an auto-refresh feature that updates the prices of all the "betinplay" options without prompting.
Although not essential, this feature does bring a bit of theatre to the site. Moreover, it pushes through the best prices to active punters, which means they never miss a potentially profitable bet.
The Tech Wizardry
Beyond Betfred's standard features is a range of betting aids designed to make casual punters winners and experienced sports bettors even bigger winners. One of the most useful options is the news and insights hub. Stocked with the latest news and inside tips from industry experts, the "sports centre" provides an in-depth look at the day's action and offers everything from stats and news to opinions and tips and daily deals.
Running alongside this news stream is a race form and stats page. Recapping the latest races and running through the form of all the forthcoming runners and riders, the page is a fantastic resource for horse racing fans who don't enjoy wading through the stats printed in newspapers and race guides.
As well as news and stats, Betfred also gives its customers a chance to watch the action live and get a feel for the action. Making a prediction based on some words and numbers can be tough, but at Betfred this isn't the end of the story. In addition to previews and reviews, a live streaming service means you can watch many of the biggest sporting encounters directly through your desktop or mobile.
The reason this is such as benefit for punters looking to make a profit is that it allows you to gain an insight into the conditions present at an event. For example, a race course may be described as "good to firm" in the day's betting guide. However, as the meeting progresses, the ground may soften and affect the way in which the riders are racing. By watching the action live, however, it's possible to pick up on these subtle changes and make more informed decisions and, therefore, make more money.
The final plus point to Betfred's software is its mobile application. Optimised for both Android and iPhone devices, these apps give customers full access to their accounts as well as all the latest live odds and future markets. Again, for keen gamblers this accessibility is great because it means you can take advantage of favourable market conditions whether you're in sight of your computer or not.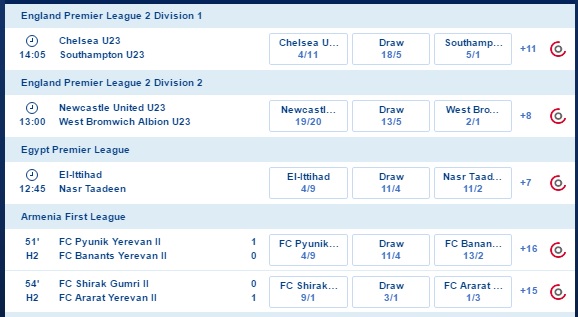 Added Extra: Betfred Sports Betting Bonuses and Bargains
As with all online bookmakers, bonuses and rewards are king and at Betfred you'll find a slew of promotions designed to boost your bankroll. New players are given £30 in free bets when they make their first £10 bet and from this base a range of daily and seasonal promotions are handed out to customers.
Whether it's cashback offers or enhanced odds promotions, Betfred endeavours to give existing customers thousands of pounds in added value for many of the major sporting events, such as the World Cup, Royal Ascot and The Masters.
View from the Casino Floor
After building up a wealth of experience in the live betting market since it was founded, Betfred's owners have managed to create an online platform that's as diverse as it is generous. From offering betting markets on all major sports, such as football, horse racing and boxing, to a range of lucrative bonuses and promotions, Betfred is every bit the modern online sports betting platform and one that everyone, regardless of their skill level, can make money from.
Live streams for thousands of event.
Mobile and in-play betting.
Welcome bonuses and seasonal promotions.
Multiple deposit and withdrawal options.
Betting from as little as £0.01.
To join Betfred Sports, follow our dedicated download link and create your first account today.